Hilton Palm Springs Resort (across from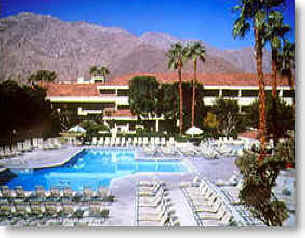 the casino, in the center of town)
http://www.hiltonpalmsprings.com/ for discount rates. Mention Futurehealth to get the $143 conference rate. The rate expires soon. Call right away. Plus, get a $20 per night room rebate* from Futurehealth for each room night at the hotel. Cost per night is $123, after rebate credit*, an amazing price for an excellent hotel in Winter in Palm Springs, where rates can easily exceed $200. Price includes free tennis, hot tubs open past midnight, parking.
Rooms for the Conference hotel, the Hilton Palm Springs Resort are Still available Call 760-320-6868 to make your reservation. Refer to the "Futurehealth meeting" to get the conference rate. If you get "bounced to the national Hilton reservation system, they may tell you no rooms are left in our room block. It's bad information. Make sure you call the actual hotel at the number above. They'll get your rooms.
To book your room over the internet, go to http://www.hiltonpalmsprings.com/, select groups, then futurehealth, then enter the username winterbrain, then the password brain to access the conference rates.