Links
Article: Sequential Awakened Mind: The Flow of Information from the Subconscious to the Conscious Mind" article" By Anna Wise
Other Sites owned and operated by Rob Kall, founder organizer of the Winter Brain Meeting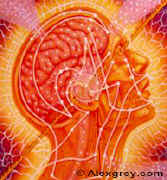 Futurehealth.org Winter Brain's Parent Company. Get tapes from past Meetings, EEG equipment, etc.(logo by Alex Grey see www.alexgrey.com )

StoryCon is the other meeting organized by Winter Brain meeting founder Organizer Rob Kall
4stressmanagement.com resources for personal, professional and group stressmanagement
QuotationsCentral.com. well over 1000 quotations, many on brain, psychological, spiritual, scientific, psychophysiological and inspirational themes.
Sphincterpolice.com a humorous site for those wound too tight, and those who take themselves too seriously
brainwavebiofeedback.com a mirror site for Futurehealth
positivepsychology.net A site which focuses on Optimal Functioning,Positive Psychology and wellness approaches to health, healing and being optimally alive.
OpEdNews.com progressive, liberal News and Opinion; beyond politics and activism: informative, entertaining arts, life, Biz, science, health, humor, film, reviews...
Miscellaneous
spiritdimension.com Internet resources devoted to spiritual growth and personal development. Features various teachings and traditions, including buddhism, zen, taoism, advaita, sufism, toltec teachings, transpersonal psychology and others. Store with books, videos, music, spiritual gifts.
Customwritings.com an essay writing site whose goal is to produce 100% plagiarism-free essays and research papers.